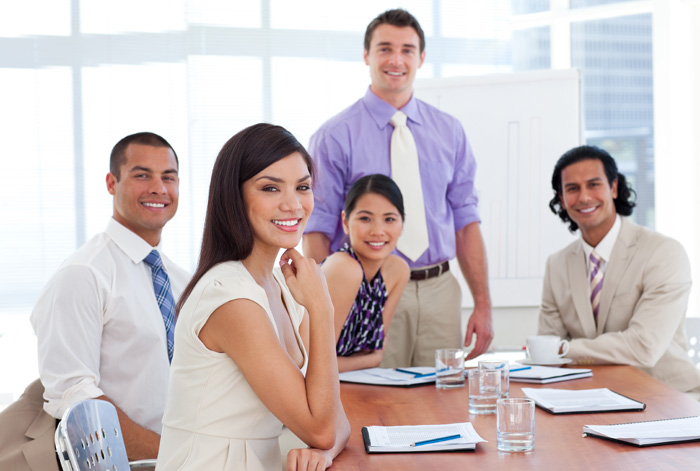 Assessments
TTI Performance Systems, Ltd

TTI SUCCESS INSIGHTS®
TTI Success Insights is a suite of assessments with easy-to-understand narrative reports that provides highly targeted information. It is beneficial for developing self-awareness and improving communication among team members. One of the main purposes for using the TTI Success Insights assessments is to start a conversation. TTI Success Insights reports are available in multiple versions and 27 languages. See descriptions of the different versions available below.
---
TTI Success Insights Management-Staff ™
The Management-Staff assessment is a four-factor DISC behavioral assessment which can be used within your organization's strategy to create a positive employee-manager relationship that directly affects productivity and goal achievement. This versatile management tool can be used to hire the right person, improve on-boarding, increase employee engagement, improve communication and build sound employee-manager relationships. The Management-Staff assessment report defines unique behavior and also guides the employee and manager in leveraging behavior for success. Its easy application is an extremely valuable contribution to talent management. It takes only 10 minutes to complete the 24-question online assessment and its insights and versatility make it an ideal tool.
---
TTI Success Insights Sales
The Sales Report has a highly sales-oriented narrative geared toward helping evaluate the strengths, blind spots, communication styles and performance of new and existing salespeople. Managers will learn how to get the most from their sales teams and coach for maximum results as well as learn a reliable method for choosing winning salespeople who best fit the present needs and culture of the company. Employees will learn their selling strengths and areas needing improvement, their style of selling, how to handle objections, as well as tips for closing and servicing accounts.
---
TTI Success Insights Team Building
You can call a group of individuals "a team," but unless they communicate effectively, resolve differences and conflicts quickly, and produce desired/required results effectively and efficiently, the team will fall short of its fullest potential. In today's fast-paced, high-pressure environment, business performance is achieved from extraordinary teams and can be enhanced by using the TTI Success Insights Team Building assessment. This assessment is beneficial for helping the team leader identify and harness individual energies, and effectively channel them towards group goals. The information in the report is presented in a non-threatening manner to encourage members to share reports, recognize team priorities, resolve disagreements, blend their styles and achieve team goals.
---
TTI Success Insights Customer Service
Customer Service is the heart of any business. The report from this assessment reveals the range and reaches of a Customer Service team, as well as specific techniques for developing excellent communication with customers and improved overall team interaction. Teams will learn how to recognize different interactive styles and cater their service approach accordingly. A unique feature of this report is how to calm excited customers.
---
TTI Success Insights Communicating with Style ™
How do you react and advance a conversation when presented with conversational obstacles? This abbreviated version of the Management-Staff assessment features situational strategies focusing on how to control these common interactions between individuals.
---
TTI Success Insights Interviewing Insights ™
Available in either a Sales or General report, this assessment is designed to enhance the interviewing process by allowing you to get a snapshot of the applicant's natural behavior, not just the adapted or masked behavior they might be using to get the job. The report from this assessment comes with suggested interview questions.
---
TTI Success Insights Work Environment ™
By prioritizing activities required for a particular job, the Work Environment Instrument graphically displays the behavioral demands of a job. A person's natural or adapted behavior can then be compared to those required by the job to show if behavioral stress levels exist and to what extent. This is a very useful tool for identifying the behavior required for the job, ways to resolve conflicts in performance issues and comparing different individuals' perceptions of the job. The resulting report can be used to benchmark the behavior required for high performance on a particular job. Think of this assessment as an "if the job could talk" tool.
---
TTI Success Insights Sales Strategy Index ™
This assessment's report answers the following questions regarding current or prospective sales personnel:
Do they understand the consultative selling process?
Can they sell? Will they sell? If so, how?
Are they treating each sales situation the way top salespeople should?
The Sales Strategy Index covers six different steps in the sales process: Prospecting, First Impressions, Qualifying, Demonstration, Influence and Closing. This is what the program will do for you:
Simplify sales training
Allow managing and coaching to be focused on the areas that produce results
Build confidence
Identify the sales strategy knowledge areas needed to sell a specific product/service in a given market
Identify sales applicant's strengths and weaknesses
Identify specific training or management needs of a salesperson or sales force
This product is based on the Consultative Selling Model.
---
MOTIVATOR REPORT
Motivators are the drivers behind our behavior; what motivates our actions. An individual's experiences, references, education and training tell us WHAT they can do. A behavioral assessment will tell us HOW they will do it. However, it is not until we know an individual's motivators that we will understand WHY they do what they do. This assessment measures your responses in each of the six attitudes. The online report shows each of the six attitudes compared to the national average. You are provided with information on the WHY of your actions, which, when applied, can tremendously impact the satisfaction you get out of life and your job.
---
TTI Success Insights Personal Motivation and Engagement

By using the Personal Motivation and Engagement assessment, you will come to know and understand the attitudes that drive your actions and be better able to understand the causes of conflict in your life. You will understand and appreciate your relationships as you recognize the attitudes of other people. You will see how their attitudes might interact with your own and affect your communication and conflict resolution.
---
TTI SUCCESS INSIGHTS TALENT INSIGHTS®
TTI Success Insights assessments that include Talent Insights combine both the DISC behavioral styles as well as the motivators to form a comprehensive analysis of an individual. Available in the general management version as well as a version specifically geared toward sales.
TTI Success Insights Talent Insights Management-Staff
As the assessment we use most often in our coaching and training, this assessment's report combines the Success Insights Management-Staff Report with the Personal Motivation and Engagement Report, explaining the impact the top two behaviors and top two motivators have on each other. An added benefit of this report is the section identifying an individual's time wasters, communication tips and areas of improvement.
---
TTI Success Insights Talent Insights Sales
This report combines the Success Insights Sales Report with the Personal Motivation and Engagement Report, in regard specifically to sales. The last five pages of this assessment's report provide deeper insight into the total person by explaining the impact that the top two behaviors and top two motivators have on each other. In addition, there is a portion to aid the individual in identifying their value to the organization, time wasters, communication do's and don'ts and solution strategies.
---
CAREER REPORT

TTI Career Planning Insights
This report combines the DISC behavioral assessment with the Work Environment assessment plus the Ideal Work Environment Report to give respondents an in-depth view of their behavioral preferences and what jobs they would be best suited for depending upon the educational level achieved.
---
PERSONAL AND FAMILY REPORT
TTI Relationship Insights ™
Effective communication is the core of all family relationships. This program was developed to assist every family in achieving the following objectives:
Identify and understand each individual's natural behavior and communication style
Understand and appreciate other family members natural behavior and communication style
Blend one's style with others for effective communication
An understanding of behavioral styles can dramatically improve the relationship between family members. With a report for the parent and young adult, each will have the knowledge they need to truly understand one another.
---
REPORTS FOR EDUCATION – EXCELLENCE FOR LEARNING
Quality education is a combined effort of teachers, administrators, students and parents. When all are working together in harmony, goals and objectives can be reached and rewarding results achieved. The goal of providing an optimal educational experience is compromised when conflicts arise within a given group. By learning to build effective relationships in the classroom, positive effects will be felt by everyone involved. With three different report types, each individual will have the tools they need to ensure a positive learning experience.
---
Excellence for Learning ™ – Administrator
Administrators should strive to be not just managers of people, but leaders of people. Because they wear many "hats" and have diverse responsibilities, they are required to be flexible and adaptive in their behavioral interactions. The more administrators are aware of their own behavioral tendencies as well as the tendencies of others, the more successfully they can be at fulfilling their important requirements and getting improved results from others. This report is recommended for use for Superintendent, Principal and Assistant levels.
---
Excellence for Learning ™ – Teacher
Teachers are instructors in not only education but also in interpersonal interaction. They deal with many different behavioral and learning styles each day and can benefit immensely from understanding the tendencies of these different styles. They are then better able to create a supportive environment where growth and excellence can flourish.
---
Excellence for Learning ™ – Student
The student report introduces the students to their communication preferences, the types of activities they like and offers guidance for improving study habits. It can also serve as a tool for increasing the student's self-assurance which will aid in scholastic demands as well as interactions with friends. This report requires an eighth-grade reading level or above.
Multi-Health Systems, Inc. (EQ-i)


Emotional Intelligence is defined as "a set of emotional and social skills that influence the way we perceive and express ourselves, develop and maintain social relationships, cope with challenges and use emotional information in an effective and meaningful way."
The EQ-i is the first scientifically validated Emotional Intelligence (EI) tool in the world. It is highly effective in the training and development of your current employees and leaders and can also critically aid with the selection of highly qualified future leaders for your organization.
---


The EQ-i 2.0® Assessment
Studies have shown Emotional Quotient Inventory (EQ-i 2.0) can be a verifiable reflection of one's overall well-being and ability to succeed in life. Unlike Intelligence Quotient (IQ), which is a relatively static measurement in adulthood, Emotional Intelligence can be developed and changed over time. Evaluating and then working to develop an individual's EQ-i can dramatically improve their interaction with others, performance at work and leadership potential. Although other factors contribute to a person's overall potential and performance, the level of someone's EQ-i is a key indicator of what they will be able to offer. EQ-i 2.0 is a highly effective employee development tool because it not only identifies development potential and pitfalls but also provides targeted strategies needed to make improvements. It can be useful for companies in the recruitment and retention of successful, emotionally healthy employees as well.
---


The EQ 360® Assess­ment
A client's social and emotional functioning are identified by his or her own responses in the EQ-i 2.0, but the EQ 360 assessment gives a more complete, comprehensive analysis by also utilizing information anonymously provided by others who know the client. Clear alignment with EQ-i 2.0 makes the results easy to understand and interpret. The reports are structured in a very clear and linear manner that is easy to reference and follow and includes not only the feedback of all the raters but also the participant's feedback consolidated into one report. By getting feedback from others, the individual is able to see themselves from a different perspective which is often different than their own self-perception and can go a long way in helping them improve not only as a person but also as a leader. There is also an EQ 360 Leadership assessment available to provide the most comprehensive look into an individual's level of emotional intelligence, providing insight into their leadership abilities and how others view them in leadership roles.
---
EQ-i 2.0® Leadership Report
With a flexible, customizable framework, the EQ-i 2.0 Leadership allows you to create a report that is catered to your preferred leadership model, quickly pinpointing what you find important. The report is leader specific, ensuring relevance and results for your organization. Best practices and strategies for action make the model practical and drive developmental results. In addition, a specific benchmark comparing leaders to other top leaders will help your company gain a competitive advantage.
The Elite Pre-Employment Testing System
Pre-employment testing is a science that should be used in conjunction with experienced interviewers so that organizations can form a hiring process that ensures the most accurate predictor of future job success. With the cost of hiring mistakes (based only on gut instinct), and employee turnover rising due to job dissatisfaction, hiring managers have both a strategic obligation and fiscal responsibility to hire the best employees.
The Elite Pre-Employment Testing System has been administered to millions of job candidates and used by over 10,000 organizations worldwide. Its validation meets the highest psychometric and scientific standards. Elite's automation, flexibility, and affordability ensure that a small business can hire or promote an employee with the same high level of confidence as the Fortune 500 can.
The online system is user-friendly for both the company and the candidate. HR and hiring managers can be up and running within minutes with minimal training. Test administration is quick, and the candidates can access the online system 24/7 using a personal computer, tablet, or smartphone. Test results are available in real-time and can be emailed directly to recruiters and hiring managers. Some tests take as few as 5 to 6 minutes to complete while others may require more time depending on the number of scales used to assess job, team, and culture fit.
What makes the system unique is not only does it have pre-designed job fit competency-based tests for specific positions, but also the ability to build your own unique test using individually validated competency scales. You can select up to 10 validated competencies from a list of over 106 validated skills and traits, providing you with complete flexibility to meet your organization's specific needs. Fees for the system can be on a per report basis or annual licensing, whichever fits your needs.
Sample Reports:
Sample Sales Hunter Profile Report – Click Here
Sample Manager Report – Click Here
Sample Character Report – Click Here
Barrett Values Centre

One of the most detailed and comprehensive cultural diagnostics and values assessment instruments available, the Cultural Transformation Tools (CTT) can help leaders, consultants and coaches build high-performance, values-driven cultures that attract and keep talented people and increase staff engagement.
The Barrett Model is a reworking of Maslow's model of the hierarchy of human needs. Every human being on the planet evolves and grows in consciousness in seven well-defined stages. With each stage focusing on a particular need common to us all. The level of growth and development of an individual is dependent on their ability to satisfy these seven existential needs.
---
Cultural Values Assessment (CVA)
By having the individuals in your company take 15 minutes to answer three simple questions, you will be able to have a comprehensive diagnostic of the culture of your organization. The CVA will provide you with a detailed understanding of the personal motivations of employees, their experience within your organization and the direction the organization could or should be heading.
CVA results can generate deep, meaningful conversations about the purpose, priorities and strategies of the organization, and give you a road map for achieving flexibility and sustainability. The survey can be customized to the specific cultural and demographic needs of the groups being surveyed. There is no limit to the number of group categories you can choose and the survey is available in multiple languages.
---
Personal Values Assessment (PVA)
Who you are, what you hold dear, what upsets you and what motivates your decisions are all connected to your personal values. By coming to understand our values, we can better understand why we act and react the way we do. When we go against our values, we may feel as though we are not being true to ourselves, but living our values can give us a sense of balance.
The Personal Values Assessment is simple survey that takes just a few minutes of your time and provides a wealth of information. Exercises in the report help you better understand your values.
DISC
QUICK PROFILE ASSESSMENT

In order to correctly read the signals people give us, individuals must have some understanding of themselves and others. This sample Quick Profile Assessment is designed to give you a small glimpse of insight into yourself. This exercise utilizes a four-factor model commonly referred to as DISC, which is based on the book The Emotions of Normal People by William Moulton Marston.
By answering 2 simple questions, you will get a general idea of your predominant style – D, I, S or C. Please select ONE answer below to begin.
Not sure what the meaning of Extroverted or Introverted is?